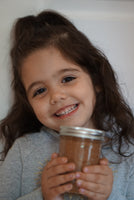 The SUPER FOOD they'll want to eat.
Our Mighty Foods Almond Date Cinnamon Swirl is loaded with healthy monounsaturated fats, omega-3 fatty acids, and vitamin E.
These power house fats and vitamins are responsible for:
-Lowering blood sugar.
-Lowering blood pressure.
-Lowering cholesterol levels.
-Promoting strong heart health.
Mighty Foods Official Taste Test
Our promise to you.
We use only the highest quality ingredients when it comes to our gourmet nut butters.
We believe that we truly are what we eat.
Be Mighty! #EatMightyFoods


You butter believe it!
Congratulations, you have just discovered the worlds FIRST and BEST ALL NATURAL Vegan Cookie Dough. 5 simple ingredients, absolutely no room for BS.
Every jar is hand-crafted with a tremendous amount of pride and care. We aim to deliver only the highest quality products we can physically manufacture.
No exceptions.
We have set the standard, and theres no going back.

Nothing but the absolute BEST.
Our latest recipe brings all of the health benefits of the walnut, with the delicious sweetness of 100% organic maple syrup. Earthy organic coconut notes sweep through smoothly finishing perfectly with freeze-dried strawberries. This butter is like no other!
what our customers are saying
I'd like to purchase a case of the Cashew Cookie Dough-YUM. Great gift idea!

Katherine S.
These butters are truly heavenly.

Maureen G
Thanks Miguel for always providing great customer service! Mighty Foods loyal customers for life!

Jen & Pete G.